UPSC (Union Public Service Commission) is India's most difficult competitive exam and probably the most difficult exam in the world. And preparing for UPSC can be very expensive because of the high fees of coaching. UPSC requires hard work, patience, effort, dedication and the right guidance. And you can achieve Hard-work, patience, effort and commitment if you have the right guidance. And many UPSC preparation centres charge a heavy amount of money for that guidance. But these best YouTube Channels for UPSC Preparation provides the right direction to UPSC aspirants free of cost.
And we want you to crack this Civil service examination that's why we are going to tell you the best YouTube Channel for UPSC IAS preparation. These YouTube channels will also help you with other competitive exams like IBPS, Railway, SSC, etc.
For You: Top 10 YouTube Channels for Competitive Exams in India
If you watch these best UPSC Preparation YouTube channels, they will guide you for your UPSC Examination. And, these are also the best youtube channel for UPSC current affairs, the best youtube channel for UPSC geography, the best youtube channel for IAS preparation in English, and the best YouTube Channel for modern history for UPSC.
For You: Top YouTube Channels for SSC Exam in India
Top 10 YouTube Channels for UPSC preparation
Let's Crack UPSC CSE
Let's Crack UPSC CSE is a one-stop solution for UPSC CSE preparation. This UPSC preparation YouTube channel is under Unacademy that is also the biggest company in this segment. Let's crack UPSC CSE has India's top educators who teach daily on their YouTube Channel. They cover the entire syllabus, strategy, updates and notifications, which requires you to crack the UPSC CSE exam. And their frequency of uploading videos is also amazing. They upload many videos in a single day. Visit the Channel here.
Anuj Garg Coaching
Anuj Garg Coaching is India's leading online platform for Civil Services Preparations. And it has more than 558k subscribers. Anuj Garg Coaching teaches learners for various competitive exams entrance and guides them towards prestigious careers. Anuj Garg Coaching work towards discovering hidden potentialities of students, making them realize their untapped skills, and helping them streamline their dynamism towards fruitful outcomes. It is structured on the principle of consistency and hard work and believes in a scientific approach of study based on perfect planning and proper guidance. You Can visit the Channel here.
Study for civil services
If you are preparing for UPSC IAS Exam, then you can't afford to ignore this YouTube Channel. This YouTube Channel for UPSC has more than 9000 videos and more than 224 million views. You will get videos for UPSC IAS, SSC and also for UPPSC, BPSC, MPPSC, UKPSC, and other states PSC Exam on this YouTube Channel. They also teach GK, GS and current affairs for UPSC preparation. Visit the channel here.
BYJU'S IAS
BYJU'S IAS helps students to cut through the noise and help students in cracking competitive exams like UPSC. BYJU'S IAS Youtube channel also provides daily analysis of 'The Hindu' newspaper and Weekly analysis of 'Economy This Week' & 'International Relations This Week'. This YouTube Channel also share strategies and motivational videos, which helps in cracking the UPSC examination. All the Civil services aspirants should watch this YouTube Channel. Click here to visit the channel.
Unacademy UPSC
Unacademy UPSC is Unacademy's 2nd YouTube which gives videos for UPSC CSE Preparation. Unacademy has some of the top educators, and they teach ON Unacademy UPSC's YouTube channel daily. And, During live sessions, Unacademy's educators share a lot of tips and tricks, and they are very helpful in cracking the UPSC CSE exam. UPSC CSE aspirants who are preparing for their exam will be benefited from this channel. Unacademy platform has the best educators from all over the country, who take live classes every day. Click here to visit the channel.
Vision IAS
VISION IAS is India's premier research and training institution, which continuously innovates to help Civil Service aspirants actualize their dreams through 'integrated efforts' of Interactive learning systems, Teamwork, Technology & Innovation. This YouTube Channel broadcast important discussions and classes related to Civil services Preparation. VISION IAS has more than 1.37 million subscribers. Click here to visit the YouTube channel for IAS preparation.
For You: Best Financial YouTube Channels in India
Mrunal Patel
Mrunal Patel sir provide guidance, study material and tips for various competitive exams conducted in India (Civil Services, CSAT, Banking-sector, IBPS, CPF, APFC, CAT, CMAT, GPSC and other State PSC etc.). He has uploaded more than 700 videos on his youtube channel for Competitive Exam preparation. Mrunal Patel sir's YouTube Channel has more than 1.4 million subscribers. Click here to visit the channel.
Civil Services Study
Civil Services Study is an amazing YouTube channel for competitive exam preparation. They guide students for various competitive exams like UPSC- IAS/IPS/IFS/CAPF and PCS Exams like UPPSC, UKPSC, MPPSC, BPSC, RAJ. PSC and Bank PO, Railway (RPF), RBI Assistant, RBI Grade B, Delhi Police SI, Uttarakhand SI, MP SI, SSC CGL, SSC CPO, SSC CHSL, SSC Multitasking exams, UP RO/ARO, TET, CAT, NET, and so many other exams. Click here to visit Civil Services Study YouTube Channel.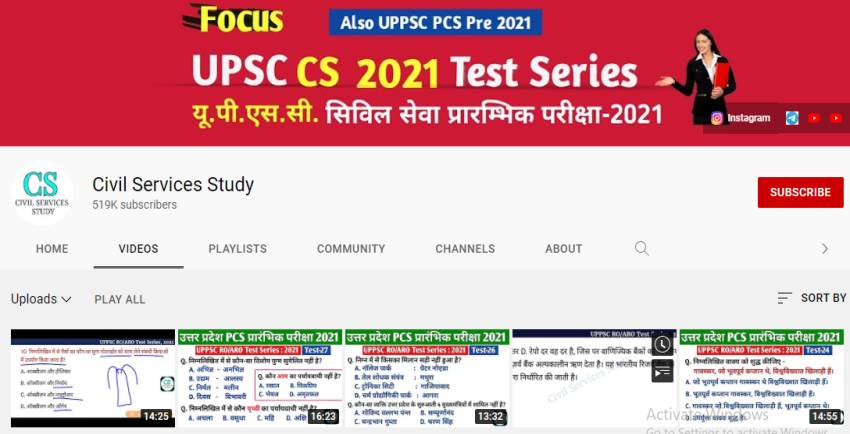 Study IQ education
Study-IQ Education's Yojana analysis and current events related videos are astonishing. Study-IQ Education is an education platform trusted by millions across the globe. With over 80 million views per month and 90 lakh subscribers, it is the most-watched education channel in the World. Expert in all government exams such as UPSC, SSC CGL, Bank PO, LIC, RBI Assistant, RBI Grade B, IAS/IRS/IPS, State PSC exams like UPPSC, MPPSC, MPSC, TPPSC, TPSC, HCS, RAS, CLAT, Hotel Management entrance, BBA and hundreds of other exams. Click Here to visit the YouTube Channel.
Drishti IAS
Drishti IAS is one of the biggest names in the country if we talk about UPSC Exam preparation. They have both online and offline classes to teach students. Their YouTube Channel for UPSC preparation has more than 7.1 million subscribers and more than 712 million views. You Should visit their channel if you want to crack UPSC CSE Examination.
These are the top YouTube Channels for UPSC Preparation and you should follow these channels if order to crack UPSC or any other competitive exam like state PSC, RAILWAY, IBPS, etc.