Reliance Industries owned Hathway cable network removed NDTV India from the popular channel packs on Friday. Hathway cable network has more than 11 million subscribers, of which approximately 1.77 million currently have wireless/broadband internet available.
NDTV's prime-time news anchor Ravish Kumar asked people to support the NDTV news channel and ask the cable operator why they removed NDTV from the popular channel packs.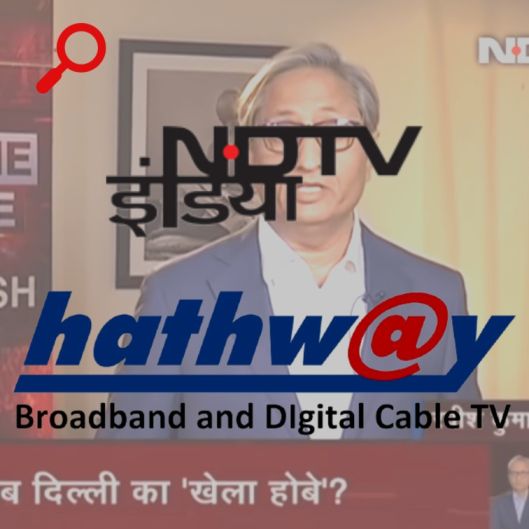 Journalist Ravish Kumar said, "This is an attempt to stop the 'TRUTH' from reaching the people. Unlike Godi media, I don't make prime-time shows by inviting puppets to the newsroom and allowing them to fight senseless debates. Behind every episode, I do a lot of hard work and the passion to bring out the reality in front of people." Kumar also said, "the team would continue to work. Today's program will not reach the viewers. Yet, when history looks back, it will note that this was the only program worth watching."
Not only senior executive editor Ravish Kumar, but the convergence head, Suparna Singh, also asked people to tweet to cable network providers.
Also Read: Top YouTube Channels for true and unbiased news in India
Singh wrote in her tweet that NDTV India has been removed by Hathway Cable TV from some popular packs. Our team is talking to them to resolve this. To support NDTV, please tweet Hathway Cable TV or call them.
NDTV is one of the most trustworthy and reliable media outlets in the country, and according to them, their fearless questions to the ruling party are one of the main reasons why NDTV is removed from the pack. Because of the step of Hathway Cable TV, many people are blaming the friendship of the owner of the Reliance industries and the ruling party, and this is not the first time when something like this has happened.
Tweeter war on why Hathway cable network removed NDTV India?
After this, Twitter has mixed reactions, while some are supporting the news channel, others are sharing hilarious memes. Meanwhile, a section of people on Twitter accused the Modi government of removing the news channel.
Many people who do not watch NDTV are also condemning this. Many Twitter pages shared memes on the topic but most people want that NDTV should be not removed from the pack.
Follow SeekerTimes on social media handles for quick updates.