For the last 6-7 years, the credibility of news channels has declined dramatically. With the growth of the NDA government, Mainstream media have become unbelievably biased. Top media channels do debate rather than show the right and unbiased news. Because of this partiality, most people prefer watching YouTube channels. These are the top YouTube channels for authentic news in India.
Top 7 YouTube Channels for True News
Subscribers: 11 million(NDTV India) + 9.63+ million (NDTV)
Total views on channels: 3.5+ billion (NDTV India) + 3.3+ billion (NDTV)
NDTV is one of the most trustworthy and reliable Hindi News channels. NDTV has many YouTube channels, but their main Channels are NDTV and NDTV India. Both YouTube channels have a subscriber base of more than 9.5 million people. NDTV India established its image as one of India's leading credible news channels and is a preferred channel by the public that favors high-quality programming and news rather than sensational infotainment. The prime-time news anchor of NDTV, Ravish Kumar got the Ramon Magsaysay Award which is also known as the noble prize of Asia.
Also Read: Top YouTube Channels for learning English in 2022
Subscribers: 17.3 + million
Total views on the channel: 5.4+ billion
The Lallantop is not a big media house but, its work is incomparable. Lallantop claims that It is the first 'new age' Hindi news website in India. You will get the latest news, Political news, entertainment news, sports news, social media news, movie reviews, and more other news on their channel.
Subscribers: 3.2+ million
Total views on the channel: 488+ million
The wire is India's leading independent news site. They are one of the most courageous independent news-site. The wire is a "not-for-profit" media venture, and it depends on donations from readers. The wire is mostly famous for its bold interviews with famous political personalities.
Subscribers: 2.89+ million
Total views on the channel: 902+ million
The Quint prefers to show the news which is related to the public. The Quint's videos offer a fascinating look at matters such as Politics, Entertainment, Sport, Food, Technology, Business, Women's issues, Health, and everything else that matters. The Quint uses the latest innovative story-telling formats like virtual reality, Social media, Time Lapse, Animation and Infographics, and many more, in both long and short form.
Subscribers: 1.22+ million
Total views on the channel: 121+ million
Scoopwhoop unscripted is a comparatively small channel, but their videos are different from the big media houses. Scoopwhoop unscripted tell stories that the mainstream ignores. Their coverage of farmers' protests is unbelievable.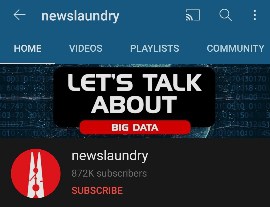 Subscribers: 872k+
Total views on channel: 92+ million
Newslaundry is a reader-supported independent news media company. Newslaundry provides AD-free, independent, and transparent news. They also do satire work, and they are good at that. They provide true news stories to their viewers.
Also Read Top 10 YouTube Channels for Competitive Exams in India |2022|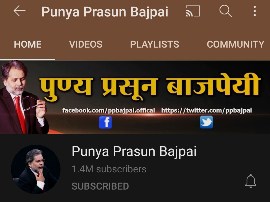 Subscribers: 1.4+million
Total views on the channel: 127+ million
Punya Prasun Bajpai is a former Journalist, and now they use YouTube for their journalism. He also got Ramnath Goenka Award in 2006 and 2008. Some people think that he is a little left-leaning, but his journalism is factual and fearless.
These are the best youtube news channels in 2021 for true news. If you want to get yourself updated with facts and information, then you should follow these YouTube channels. You can also watch Dhruv Rathee, Akash Banerjee, scroll, alt news, etc. In this article we didn't cover the print media but, if we talk about print media, the Times of India is the most unbiased news source. We can also consider DD news, BBC, ThePrint, and a few other websites for true and unbiased news.