Ganesh Chaturthi 2021: According to the Hindu calendar, the Ganesh Chaturthi festival is celebrated every year on the Chaturthi date of Bhadrapada month. This year Ganesh Chaturthi is on 10th September 2021. According to Religious beliefs, Lord Ganesha, the god of happiness and prosperity, was born on this day. According to Panchang calculations, this time Ganesh Chaturthi date will be celebrated in Chitra Nakshatra. Lord Ganesha is worshipped before all the deities.
Every worship lesson begins with his invocation. Ganpati Maharaj is considered to be the god of auspiciousness, intelligence, happiness, and prosperity. Riddhi Siddhi and auspicious benefits also reside where Lord Ganesha resides. There is no obstacle in any work started by worshipping him, hence Lord Ganesha is called Vighnaharta. Worshipping Lord Ganesha with rituals on the day of Ganesh Chaturthi brings good luck, happiness, and prosperity to the house. Some special things should be taken care of during Ganesh Puja on this day.
Also Read: Best Holi Quotes in HINDI and ENGLISH with Images
Offer Durva to Ganesh Ji in worship:
Durva is very dear to Ganapati Maharaj. In the worship of Ganesh Ji on Ganesh Chaturthi, he should offer Durva. By doing this, the devotees get the blessings of Lord Ganesha.
Offer red flowers to Lord Ganesha:
Lord Ganesha loves red flowers, and we should offer them red flowers. If it is not possible to offer red flowers, then you can also offer any other flower. Just keep in mind that Tulsi is not used in the worship of Lord Ganesha.
Offer Modak to Lord Ganesha:
We should offer Modak to Lord Ganesha while worshipping. Modak is very dear to Lord Ganesha. In such a situation, in the worship of Lord Ganesha on Ganesh Chaturthi, he should offer Modak.
Ganpati loves red vermilion (लाल सिंदूर):
Ganpati Maharaj is very fond of red vermilion. After bathing Lord Ganesha, apply red vermilion to him. After that, apply red vermilion tilak on your forehead also. You can do this every day also. You will get success in every field with the blessings of Lord Ganesha.
Chant this mantra:
Lord Ganesha protects Lord Ganesha from the troubles and obstacles that come in the financial field. While offering vermilion to Ganesh Ji, chant the mantra- 'Sindooram Shobhanam Raktam Saubhagyam Sukhvardhanam. shubhdam kamadam chaiva sindooram pratighyatam. Oh, Ganpataye Namah. 'सिन्दूरं शोभनं रक्तं सौभाग्यं सुखवर्धनम। शुभदं कामदं चैव सिन्दूरं प्रतिगृह्यताम॥ ऊँ गं गणपतये नम:।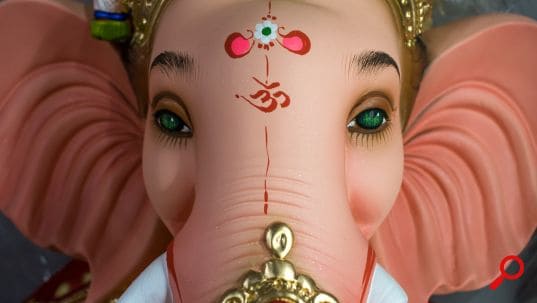 We wish you a happy Ganesh Chaturthi.
For You: Everything about Dev Uthani Ekadashi/Gyaras, Tulsi puja
Follow SeekerTimes on social media handles for quick updates.