Holi is the second largest festival of Hindus after Diwali. On the day of Holi, people forget their old fights and celebrate this festival together with love. The festival celebrates the eternal and divine love of Radha and Krishna. It also signifies the triumph of good over evil. This year, because of the Coronavirus, people can't celebrate Holi as they used to do. So, they are greeting people by sending Holi quotes on social media sites like Whatsapp status, Instagram story, and Facebook.
These are the few quotes you can send to your relatives and friends on the occasion of HOLI.
This HOLI, Focus On Refreshing Your Soul With Colours And Look How Beautiful Your Life Gets Painted.

from social media
HOLI Quotes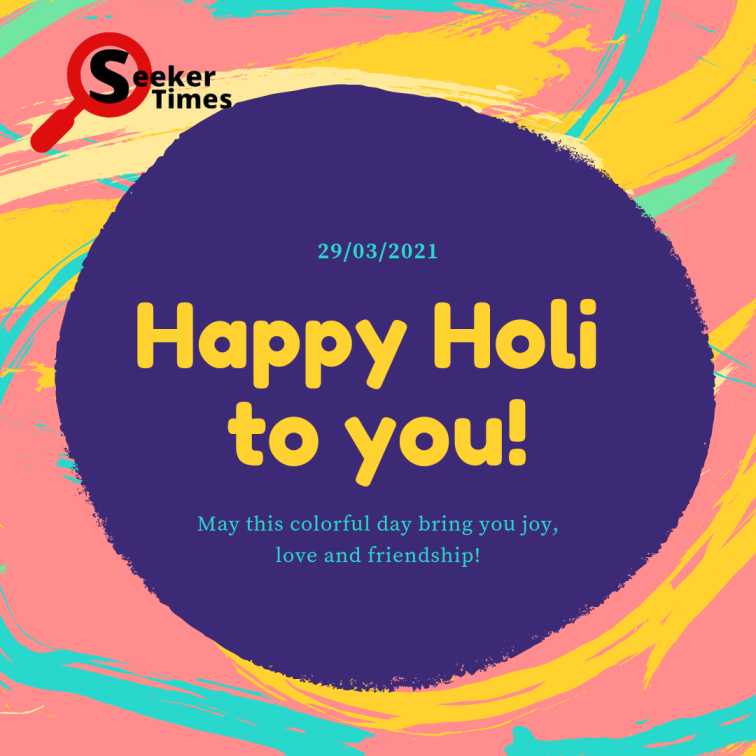 Happy HOLI to you! 29/03/2021
May this colorful day bring you joy, love and friendship!
Shigma Holi
Holi is known as Shigma or Rang Panchami in Maharashtra.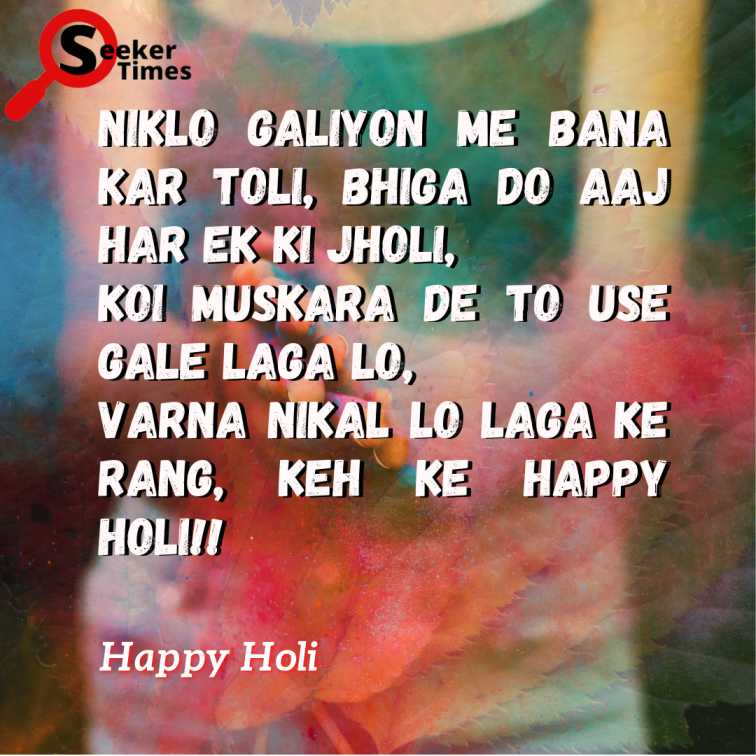 Shigma!!
NIklo Galiyon Me Bana Kar Toli, Bhiga Do Aaj Har Ek Ki Jholi, Koi Muskara De To Use Gale Laga Lo, Varna Nikal Lo Laga Ke Rang, Keh Ke Happy Holi!!
निकलो गलियों में बना कर टोली, भीगा दो आज हर एक की झोली, कोई मुस्करा दे तो उसे गले लगा लो, वार्ना निकल लो लगा के रंग , कह के हैप्पी होली!!
Lathmar Holi
Holi is known as Lathmar Holi & Holi Milan in Uttar Pradesh.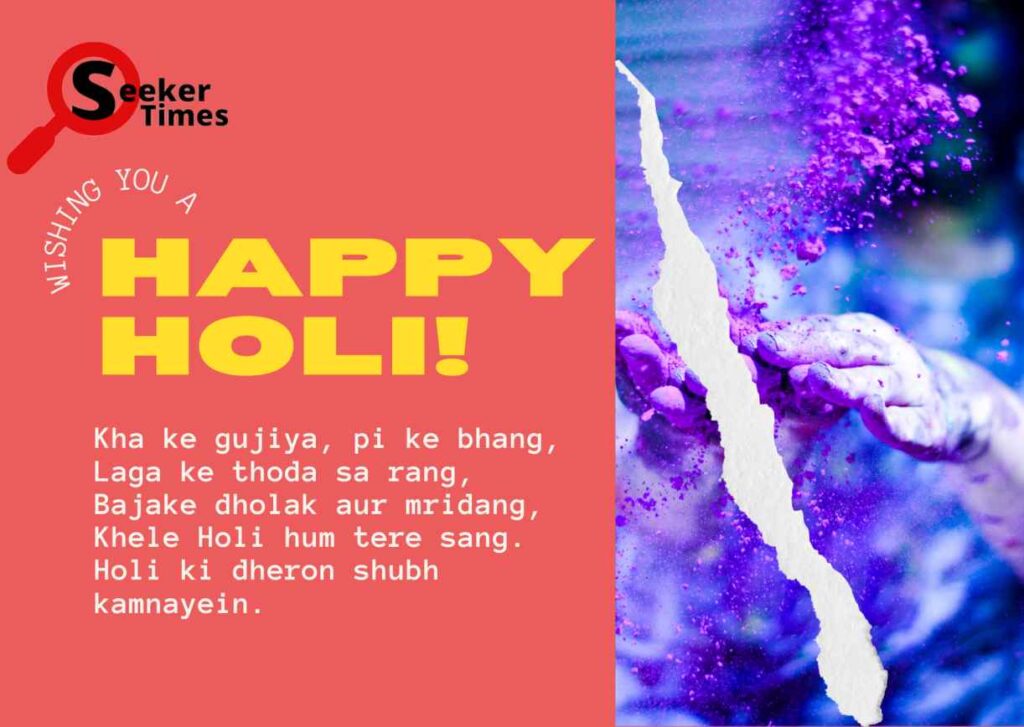 Lathmar Holi!!
Kha Ke Gujiya, Pi Ke Bhang, Laga Ke Thoda Sa Rang, Bajake Dholak Aur Mridang, Khele Holi Hum Tere Sang, Holi Ki Dheron ShubhKamnayein.
खा के गुजिया, पि कर भांग, लगा के थोड़ा सा रंग, बजाके ढोलक और मृदंग, खेले होली हम तेरे संग,
होली की ढेरों शुभकामनाएं।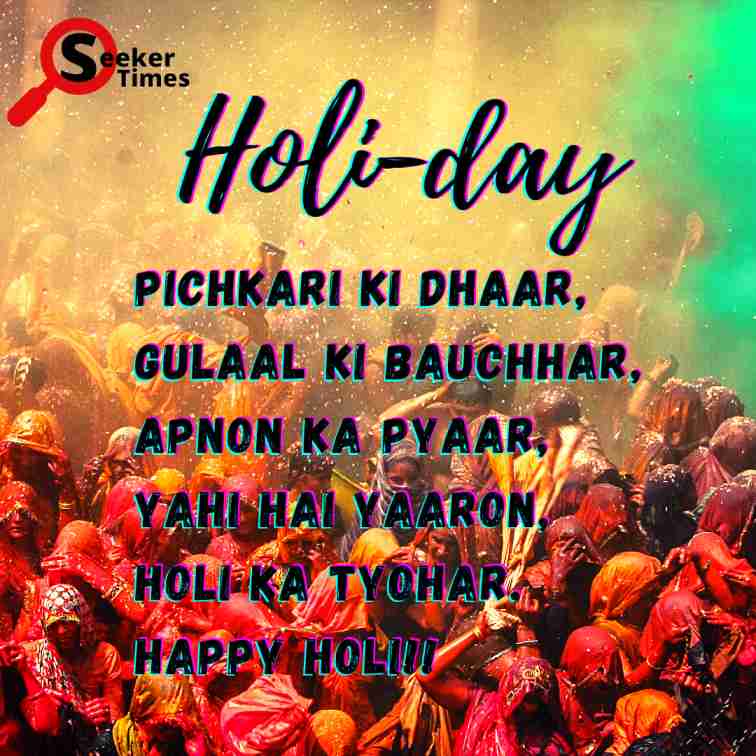 HOLI-DAY
Pichkari Ki Dhaar, Gulaal Ki Bauchhar, Apnon Ka Pyaar, Yahi Hai Yaaron, Holi Ka Tyohar. Happy Holi !!
पिचकारी की धार, गुलाल की बौछार, अपनों का प्यार, यही है यारों, होली का त्यौहार. हैप्पी होली.
Hola Mohalla
Punjab celebrates 'Hola Mohalla,' which looks, sounds, and feels like Holi for warriors! They celebrate it a day before Holi.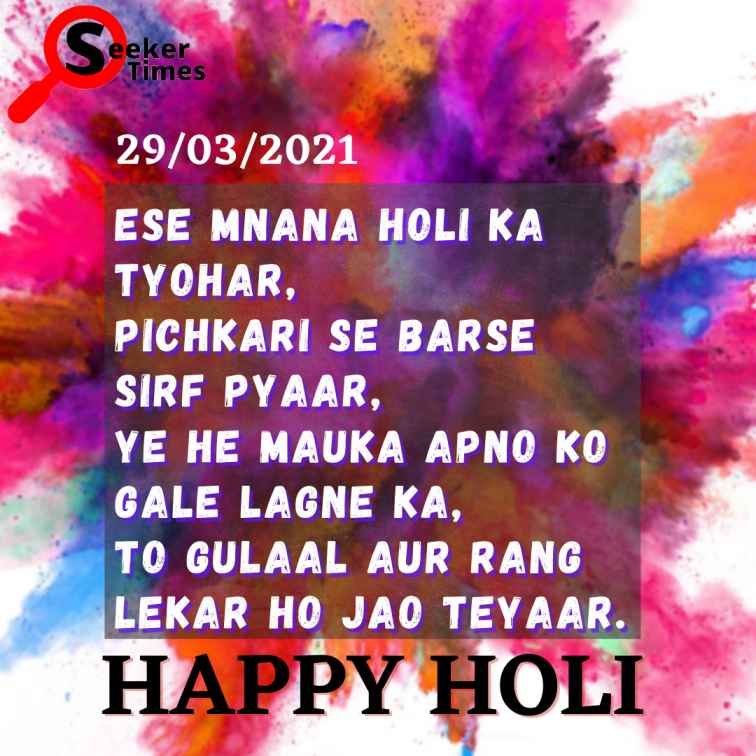 Hola Mohalla!!
Ese Mnana Holi Ka Tyohar, Pichkari Se Barse Sirf Pyaar, Ye He Mauka Apno Ko Gale Lagane Ka, To Gulaal Aur Rang Lekar Ho Jao Teyaar Happy Holi!!
ऐसे मनाना होली का त्यौहार, पिचकारी से बरसे सिर्फ प्यार, ये है मौका अपनों को गले लगाने का, तो गुलाल और रंग लेकर हो जाओ तैयार| हैप्पी होली|
Royal Holi
Holi celebration in Udaipur is still done by Mewar Royal Family.
Royal Holi!!
Chhod Ke Sare Rang, Bas Thare Rang me Rang Jaun, Howe Koi Fagun Esi, Jo Pritam Sang Manaun. Wo Rang Ho Mahro Aur Me Uski Bhang Bhang Jaun, Howe Koi Fagun Esi, Jo Pritam Sang Manaun.
छोड के सारे रंग, बस थारे रंग में रंग जाऊँ, होवे कोई फागुन ऐसी, जो प्रीतम संग मनाऊँ । वो रंग हो माहरो और मैं उस्की भंग बन जाऊं, होवे कोई फागुन ऐसी, जो प्रीतम संग मनाऊँ।
Share these best Holi quotes and well wishes with your friends and family members and enjoy the Festival of colours.
Also Read: 5 Passive Income Ideas For Students to earn more than 1000$ per month in 2021