What is IVR System? What is the complete form of IVRS? You will get all the information about how IVR System works in this post. So read this post till the end.
You must have called customer care at some point or the other. And you must have noticed that when you call, you get a voice from customer care that for Hindi press 1, to continue in English please press 2, and when you press one, then after that next voice comes for recharge, Press 1 for Internet, press 2 for calling and so on.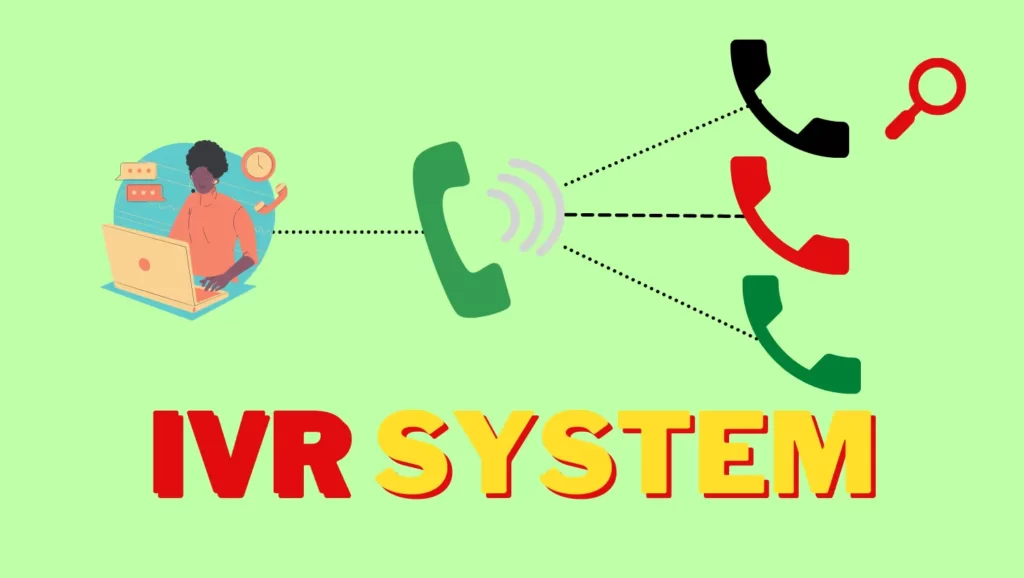 Have you ever wondered what is this, where and how does this sound come from? Many of us don't know from where this sound comes. But after a few times, we understand that the girl's voice is recorded and played again and again.
Today, we will see this topic in detail. What is the IVR System, what is the full form of IVRS and how does it work? So, let's see it in detail.
What is IVR System Full Form?
The full form of the IVR System is Interactive Voice Response System. Here you must have understood from its name that Interactive voice response is a system that responds to voice.
What is IVR System?
IVR is a system that responds to voice, when many times you call the customer care of a company, there is a sound from the system that when you press 1 for Hindi, the system detects that the customer Has pressed one means the customer wants to talk in Hindi.
After that, there is a main menu that asks us to press a different number on the phone like one for recharge, press 2 for internet, press 3 for caller tune, and when we press 1 then we are told the further process of a recharge, then this whole process is called IVR System.
How does IVR System work?
IVR System works in two ways, one is DTMF (Dual Tone Multiple Frequency), and the other is to recognize Human Voice. But today, DTMF is used the most in IVRS.
Human Voice
In this, the system asks you to answer yes or no for any work, as you would have seen in banking or any e-commerce while making a transaction or order. You are asked to answer yes and no for confirmation if you say yes, then that Completes the transaction or order and if you say no, then the system cancels your transaction or order.
DTMF (Dual Tone Multiple Frequency)
DTMF works on multiple sound frequencies. If you notice, when you press one on your dial pad, a sound comes out, then when you press 2, a sound comes out in another frequency. Similarly, every key from 1 to 10 There is a different sound frequency that is why the DTMF software can detect which button you have pressed.
In DTMF software, there are already some commands given above these buttons, such as if the customer presses one, then he can recharge his phone, if the customer press 2, then he can check the balance of his phone.
The DTMF software detects the sound frequency of the buttons on your dial-pad.
Otherwise, think yourself that you have pressed one or 4, you know that the system is watching a little, which button you have pressed, then how will it know which button you have pressed. This DTMF is only from these different sound frequencies system detects.
Why is IVR System used?
To make the company professional:
Today, all the big companies in the market use the IVR system, so the new company in the market also uses IVR so that it can attract customers.
To handle a large database of customers
Millions of people are associated with growing companies, and they face some problems every day because it is very natural to get errors in any technical thing.
In such a situation, companies with millions of customers use IVR systems. Like, Jio has crores of customers all over India, and you know the quality of internet Jio provide, Jio alone can't handle such a huge customer base even if they want to.
In such a situation, Jio uses IVR System to fix many people's problems without a teleoperator. If there is a big problem, then only a person receives the phone.
To provide good customer support to the customers at a low cost
With IVRS, any company can provide good customer support at a low cost. And this also benefits the customer in the banking line. Suppose you want to check your account balance, then you do not need to ask any operator.
You have to call on the bank's customer care number, and they will ask you to press one for balance enquiry, and when you will press one and enter your account number, you can find out your account balance.
Where is IVRS used?
In banking, IVR System is used to check balance, for debit card or credit card information or loan etc.
Ecommerce companies also use IVRS for order information, return or complaint etc. Today all e-commerce companies like Amazon, Flipkart, Paytm, Myntra use IVRS.
IVRS is also used in online services. When you take online services like web hosting, etc., then also you get IVRS support from hosting companies.
Earlier, the IVR system was not used in this area, but now you get the IVRS support in tata sky, dish tv etc.
IVRS is most used in telecommunication. Today, all telecommunication companies like Jio, Airtel, Vodafone, BSNL, Idea etc., all use IVRS.
In today's time, all the small and big companies are using IVR systems.
Make hp gas booking using IVRS
How to use IVRS in your business?
If you have a company and if you want an IVR system to give better support to your customer, then you can also use IVRS service very easily.
If you search IVR hosting on the internet, then you can find many companies which give IVRS services at very low rates.
Apart from this, you can also install your IVR system, but I would not advise you to do so. If you have a big company, then only you should install your IVR system. Because installing an IVR system is very expensive. If your budget is high or your company is big, then only you should invest in it. Otherwise, you can take IVR hosting on the internet.
Conclusion
I hope, you have understood the full form of IVRS, what is IVR System? and how it works? If you have any questions or suggestions, then you can ask us by commenting.
Follow Seeker Times on Social media for quick updates.
और हिंदी खबरों के लिए Seeker Times Hindi को फॉलो करो | For English News, follow Seeker Times.