A film that captivates for its entire duration gets made just infrequently. And, sometimes even a good idea, a good director, and a good film editor together don't get the audience hooked till the end because the script of the film doesn't hit the screen as it was woven. In Western countries, films have been made on a different theme of 'Ghostbusters'. There have been many films made on finding and 'liberating' demonic forces, 'Bhoot Police' is the native version of this idea. And it took the minds of five authors to make this edition.
| | |
| --- | --- |
| Movie Review | Bhoot police |
| Artist | Saif Ali Khan, Arjun Kapoor, Yami Gautam, Jacqueline Fernandez, Rajpal Yadav, Javed Jaffrey, Girish Kulkarni, and Jamie Lever |
| Author | Sumit Batheja, Pooja Ladha Surti and Pawan Kriplani |
| Director | Pawan Kriplani |
| Creator | Ramesh Taurani and Akshay Puri |
| OTT | Disney plus Hotstar |
| Rating | 2.5 |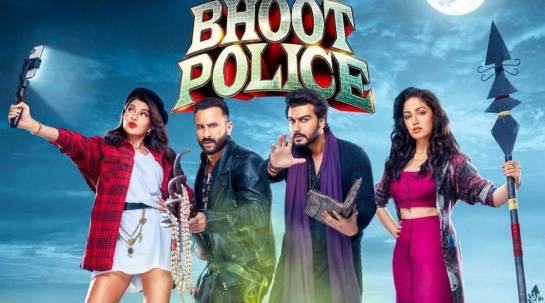 Visit Entertainment Section: CLICK HERE
Bhoot Police (2021) Storyline:
The story of the film 'Bhoot Police' is probably thought of after Rajkumar Rao and Shraddha Kapoor's film 'Stree'. Raj Nidimoru and Krishna Dasari Kothapalli (Krishna DK), along with Sumit Arora made a successful attempt to bring Hindi cinema closer to more or less a new category in Hindi cinema through the film 'Stree'. After that, all the producers were involved in making horror comedy but bringing effects like 'Stree' is also similar to raga, kitchen, and pagdi.
In the film 'Bhoot Police', there are two brothers who look like uncles, nephew and both are out to catch ghosts. The twist is just that one takes this job seriously and the other jokingly. Every department of the film has worked sincerely. Yes, being a film of Tips Music Company, the audience who was expecting a couple of haunting songs in it was disappointed.
For You: Prithviraj Chauhan: Akshay Kumar released a poster of his upcoming movie for 2022.
On the contrary, Baba was a famous Tantrik of his time. His sons Chironji and Vibhuti are earning a living with the help of their inheritance in Pilibhit's numbered vehicle. There is also an angle of nepotism in the film as well as that of Go Kichkandi Go. The story begins on the contrary with Baba & Sons making money through the pretense and reaches where they are designed to have a face-to-face encounter with a spirit. There are two heroes in the story of Mumbaiya film, and there are bound to be two heroines.
Actors:
Yami Gautam and Jacqueline Fernandez have been roped in for this. Both of them have inherited a tea plantation. Here too one has a heartfelt attachment to heritage, and the other has to settle down in London. The story starts coming at a rapid pace only after coming to the tea garden. After the initial chaos, timepass sequences, and interpolation stories are inserted to increase the length of the film, the story keeps the audience hooked for only half an hour from the last.
Very weak at the script level, 'Bhoot Police', a film, that you have never seen before, has nothing. Looking at Saif Ali Khan, it seems that he has given up efforts to do something better as an actor. Their facial expressions are pre-set according to the scene. They have similar expressions of shock, sensuality, and joking.
Arjun Kapoor has been brought in the place of Ali Fazal in the film, and he does not seem to be doing any unique charisma in the movie. According to the character, he had to be a little patient and serious, but his dialogues seem artificial according to his character. If any Pahari dialect had been put in his dialogues, it would have been right according to the legacy of his character.
The acting department of the film 'Bhoot Police' is also ineffective in terms of its heroines and character actors. Yami Gautam did nothing special in the movie. She has done better characters than this in her earlier films. Jacqueline Fernandez has a lesser share in the story than her contribution. Hindi is not spoken in that manner, so the writer has to tell that his heart is in London.
The scene composed to establish the character of Javed Jaffrey is the longest and weakest scene in the film. Rajpal Yadav also failed to make an impact in this scene. The same is the case with Girish Kulkarni. Seeing Amit Mistry on screen leaves an emotional impact. Yes, Jamie Lahiri has done his job the best.
Also Read: Salman Khan releases the first poster of Aayush Sharma's Antim: The Final Truth
Bhoot Police estimated Production cost:
According to horror movie producers, Ramesh Taurani has spent a good amount of money on it. The production value of the film is also according to its stars. Jayakrishna Gummadi with his cinematography and lighting makes the film is nice and eye-catching. He was successful in bringing the colors of Rajasthan on the screen. And creating the mysterious atmosphere of Himachal Pradesh. And, what has helped the film the most in this is its sound design and background music. Anirban Sengupta and Clinton Cerejo deserve praise for this. The film's look, colors, decor, noise are all great, just its soul is 'missing'.
Follow Seeker Times on Social media handles for quick updates.