Loans: A Useful Financial Instrument
Loans help us make purchases, cover a short-term cash flow gap, or build a long-term asset like a home. Most financial institutions including banks, non-banking finance companies (NBFCs) and housing finance companies (HFCs) offer a wide range of loans to meet the various needs of the consumers. Both, home loans and personal loans are available to the customers depending on their specific needs. For the most part, we look for home loans when we are ready to purchase a property on our own. On the other hand, if we need a little more money for a down payment, a personal loan can be the perfect solution. Let us understand Home Loan vs Personal Loan in depth.
What is a home loan?
With a home loan, we can borrow the money we need to make a down payment, and buy a property without spending all our money. Nowadays, banking and other financial institutions offer different types of home loans.
For You: How to apply for SBI Home Loan online in 2022?
What is the home loan used for?
Buying an existing house or apartment
One of the most popular types of home loans is for the acquisition of a new or used property. Many banks offer this type of loan in various configurations.
Purchase of plot
Land purchase loans are available from many institutions. Buying a piece of land is a flexible option as the buyer has the option to save money and build a house when his resources allow it or keep the land as an asset or investment for a long period.
Build a new home
The loan disbursement in this scenario is for individuals who are looking to build a house instead of buying one. This type of loan has a unique approval process as it also considers the cost of the land.
Existing home renovation
Many financial institutions offer loans for home improvement projects like repairs, overhead water tank installation and power restoration, among other things.
Expansion and repair
Banks also provide loans for expansion, integration of additional rooms, balconies, etc.
For You: Personal Loan for Down-payment of Home loan in 2022, Is It a Good Idea?
What is Personal Loan?
Bank lends money to individuals based on their creditworthiness, and this loan does not require any collateral against the loan.
What are personal loans used for?
Marriage loan
In India, marriage is an important life event and a significant financial commitment. A bank wedding loan can go a long way in making your big day more special. Anyone in the family, including the prospective bride and groom, can take a loan to help with the wedding expenses.
Travel loan
With a travel loan, we can travel around the world, and pay off our debt later. Travel insurance is often included with holiday loans, so we cover all fronts.
Pension loan
Since pension loans are only available to retirees, the usual eligibility requirements do not apply to this unique program. Some institutions provide 6-10x the income received a month before filing the loan request under this program.
Other major personal loans are:
consumer durable loan
agricultural credit
Personal Computer Loans, etc.
Personal loans offered by some institutions can go beyond the loans mentioned above. Sometimes, women are eligible for unique personal loan offers with different terms and conditions than men. For example, a woman applying for a marriage loan in the same bank may get different loan terms.
Home Loan Vs Personal Loan: Things You Need To Know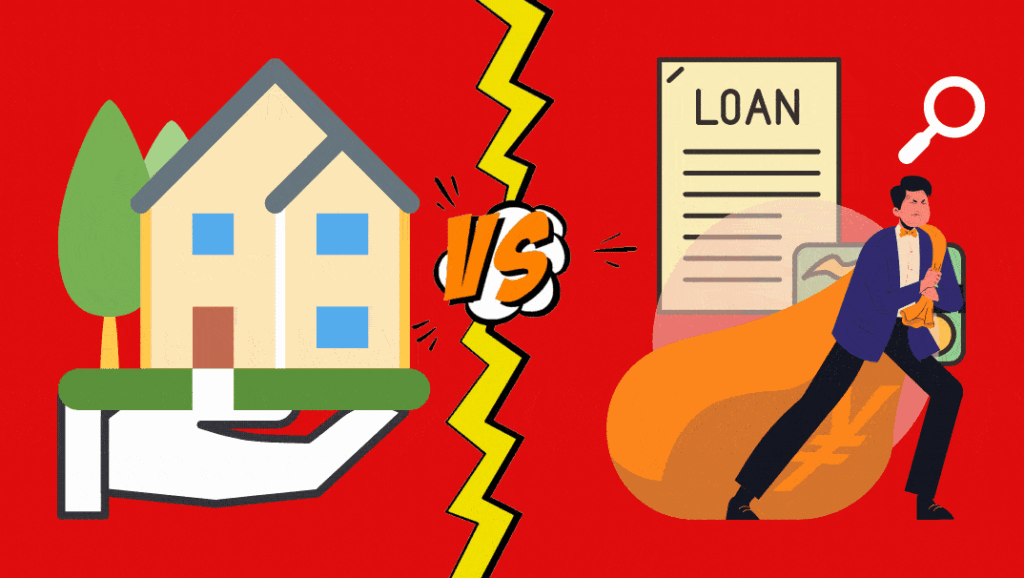 Collateral
A home loan is a type of secured loan, such as an education loan or a car loan. Banks and lending companies can take a homeowner's home as collateral when the loan cannot be paid back on a mortgage or other loan. Unlike a home loan, there is no security attached to a personal loan. As a result, there is no need for collateral while taking a personal loan.
Amount involved
There are different loan amounts available, from Rs 15 lakhs to Rs 8 crores. The ability to repay a loan is determined by a variety of variables, such as income. If you are looking for something more flexible, personal loans are available for amounts ranging from a few thousand rupees to as high as Rs 25 lakhs or Rs 3o lakhs. Personal loans up to Rs 60 lakh are available from some banking institutions.
Tenure
There are many home loan terms available, from five to 30 years. As a result of the large purchase price of the home, the loan terms are longer, which helps in keeping the EMIs low. On the other hand, personal loans are available for a tenure of 12 to 60 months.
EMI payment
Equated Monthly Installment (EMI) is a fixed monthly payment made by the borrowers to the lenders on a particular day every month for a predetermined period, and the payments are pre-calculated. Due to this longer repayment tenure on a home loan, the EMI is lower as compared to a personal loan for the same amount. Personal loans have a shorter repayment tenure, hence higher EMIs.
Time spent on processing
The processing time of a home loan is three to four weeks. However, if the required documents are missing or the builder lacks suitable qualifications, the process may get delayed further. E-banking has accelerated the disbursement of personal loans. A personal loan can be authorized for new customers instantly or within minutes and disbursed within 24 hours.
Rate of interest
Since home loans have collateral (secured loans), the interest rate is lower than the interest rate on unsecured loans. In India, the current home loan interest rates range from 6.9% to 8.5%. Since they are unsecured, personal loans have quite high-interest rates, ranging anywhere from 9.6% to 22%, depending on the specific profile of the borrower. A low credit score means higher interest rates for borrowers, while a good credit score means lower interest rates for borrowers.
Tax benefits
There are tax benefits attached to a home loan that helps the borrower to reduce one's income tax liability and thus, can be refunded as per schedule while enjoying all the tax benefits, as we pay our principal and interest, respectively up to Rs. 1.5 lakh. If we choose to prepay the personal loan in full or in part, it will have no impact on your tax planning, as personal loans do not have tax benefits.
Home Loan Vs Personal Loan In Brief
| | | |
| --- | --- | --- |
| Basis of Distinction | Home Loan | Personal Loan |
| Types of Loans | Secured | Unsecured |
| Interest Rate | 6.65%-9.90% | 8.95%-21.30% |
| Amount disbursed | Rs 15 lakhs- Rs 10 crore | from a few thousand to 60 lakh |
| Tenure | 5-35 years | 12 to 60 months |
| Processing time | 3-4 weeks | immediately |
| Profit | Taxable | Not Taxable* |
Home Loan Vs Personal Loan
*We can claim a tax deduction on personal loans in the following scenarios:
If the loan is taken for investment to expand our business and increase revenue.
Tax deduction for a personal loan used for home renovation (Section 24(b) of Income Tax Act 1961).
When we buy gold, jewellery, stocks and non-residential property, such as land, plot, shop or factory.
As we have seen, home loans vs personal loans are used for quite different things. Our financial situation can be improved by thoroughly understanding the loan terms before applying for one. If we are thinking of taking a loan, we should carefully consider our financial situation and our ability to repay the loan before deciding on the amount and repayment tenure.
Still can't make up your mind between Home Loan vs Personal Loan?
You can opt for a top-up home loan
Borrowing money is a huge financial commitment. It must be repaid during the consumer's selected repayment period. It is better to take a home loan for a new home purchase, but if we need more money later, we can opt for a top-up home loan.
What is Top-up Home Loan?
Consumers having a consistent relationship with the bank, having an excellent credit profile, and having repayment capacity can apply for a top-up loan. Personal loans are handled in the same way and can be used to cover other unforeseen expenses, from home furnishings to financing children's education. Banks will top-up the existing home with a loan of up to 70% of the property value. If we pay off our home loan on time, we may be eligible for a significant loan increase.
It is worth knowing that we can use the loan to settle personal financial responsibilities or pay off any other debt. As a result, we don't have to tell our new lender how we want to spend the extra money. Getting a second mortgage is simple and requires just a little paperwork. There are no fees associated with early repayment of the loan or foreclosure. Depending on the present value of our home, we may be able to get a top-up loan with a higher value than the initial home loan provided.
FAQs
Will my CIBIL score affect the amount I can borrow to buy a house?
It is important to note that your ability to get a home loan is directly linked to your CIBIL score, which is a snapshot of your overall credit history and loan repayment track record. CIBIL tracks and collects information on credit card and loan payments made by individuals and businesses.
Do I get tax benefits on a home loan?
Yes, as per the Income Tax Act of 1961, you are entitled to tax benefits on both the principal and interest of your home loan. For this reason, you should talk to a lending advisor about the tax benefits you may be eligible for on your loan.
What is the difference between a top-up home loan and a personal loan?
A top-up loan, which is a new loan on top of an existing loan, is a financing option for items such as a home loan or personal loan. Even though top-up loan interest rates are typically 1.5%-2% higher than home loan interest rates, they are still lower than interest rates on other types of loans, such as personal loans.
Follow Seeker Times on social media handles.