YouTube Channels for Students: India's online education market is expanding at a rapid pace, and COVID-19 gave it a boost. Most students are studying online like never before, and there are possibilities that it will keep growing. Some people estimate that it will be more than $8.6 billion by 2026. As the online education market is growing, many companies have increased the prices of their courses. But, some people are sharing their knowledge for free on YouTube. But, some people are sharing their knowledge for free on YouTube. And, if you are a student, then you should know how to use YouTube for your best. So, we thought that you should know about these top YouTube channels for students.
In this article, we will tell you the top 10 YouTube channels for Students in India and we will clear your queries like which is the best Youtube channel for class 10th students in India.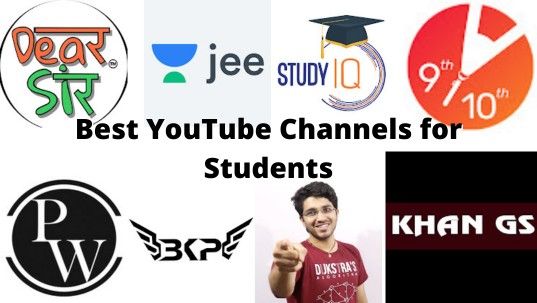 Subscribers: 1.5+ million
Total views on the channel: 202+ million
Vedantu Class 9 & 10 is an exclusive online tutoring channel for Class 9 and Class 10 Students. Vedantu is one of the bests Youtube channels for class 9 and 10 students. Vedantu tutors help students in creating a solid base for NTSE, NSO, PRMO, and other competitive examinations at School Level. The teachers at Vedantu are always available to solve any queries. They also give students proper mentorship and motivation to be the best version of their personal and professional lives.
Online tutoring by Vedantu allows students to learn from their houses, which saves them time and energy. Vedantu promotes a friendly, dedicated, and interactive learning environment, eliminating all the communication barriers. If you are looking for guidance to prepare for the Class 9 or Class 10th exam and other School Level competition examinations, then this is just the right channel for you.
Subscribers: 1.8+ million
Total views on the channel: 224+ million
"Bhai ki padhai" is a Hindi educational YouTube channel. "Bhai ki Padhai" teaches in a very engaging way and uses animation, which makes the study more friendly. Students love this channel because "Bhai ki Padhai" makes studying simple and interesting. Because of the amazing content, this channel has more than 1.8 million subscribers and more than 224 million views on this channel.
For You: CBSE Class 10th Life Process notes for Exams
Subscribers: 10.4+ million
Total views on the channel: 2.1+ billion
In our other blogs, we told you about Study IQ. Study IQ is one of the biggest YouTube channels for education, and if you are a student, you might have heard of it. Apart from Hindi, Study IQ also has channels in Marathi, Gujarati, and Bangla.
Study IQ also provides premium courses, but their general knowledge and current affairs videos are amazing, and these videos help a lot in general knowledge. I strongly recommend you to subscribe to this channel if you are preparing for any competitive exam. This is one of the best YouTube channels for Students.
Subscribers: 5.5+ million
Total views on the channel: 967+ million
Alakh Pandey is a very famous physics teacher and his YouTube channel name is Physics Wallah. Alakh Pandey started this channel to provide free education to students and now his channel has more than 5.5 million subscribers.
While growing his YouTube channel, he also hired other teachers, and today, along with physics on his YouTube channel, you will also get videos on Maths, Biology, Chemistry, and other subjects.
Subscribers: 9.6+ million
Total views on the channel: 569+ million
If you are struggling with your English vocabulary or writing, then you should check our "Dear Sir." Dear Sir is a very old and popular YouTube channel for English study. This Channel has more than 300 videos and several playlists, which help in improving our English vocab. Because of the trust students show 'dear sir,' it has more than 9.6 Million Subscribers.
Also Read: Best YouTube Channel for Class 10th
Subscribers: 12.2+ million
Total views on the channel: 1.04+ billion
Khan sir is famous for his way of teaching. There are more than 300 videos on his channel, and you will get good current affairs analysis here. He also covers topics like economics, Defense, computer, railways, and many more. This is one of the best YouTube Channels for students.
Subscribers: 1.11+ million
Total views on the channel: 88+ 3illion
Aman Bhaiya aka, Aman Dhattarwal, runs this channel for providing free knowledge to students. This channel provides quality education to students who want to learn, grow and do something beautiful with their life. Other than this, Aman Dhattarwal also created an educational YouTube Channel named Apna college. At Apna College, he provides study material for college students, and they love Aman Dhattarwal's work.
Subscribers: 1.8+ million
Total views on the channel: 361+ million
Unacademy is one of the starts that worked towards the delivery of online education. Unacademy is only present in the online domain, and they are dedicated to competitive exams, but students can get rich content on their YouTube channel because these competitions carry syllabi of school books.
These are the top YouTube Channels for Students. Many channels can't make it to this list, but they are good too. If you want us to add some more channels to this list of best YouTube channels for students so, you can comment on this post or you can also message us on our social media profiles.
For You: Top YouTube Channels for SSC Exam in India
Follow Seeker Times on Social media profiles for daily updates and news.